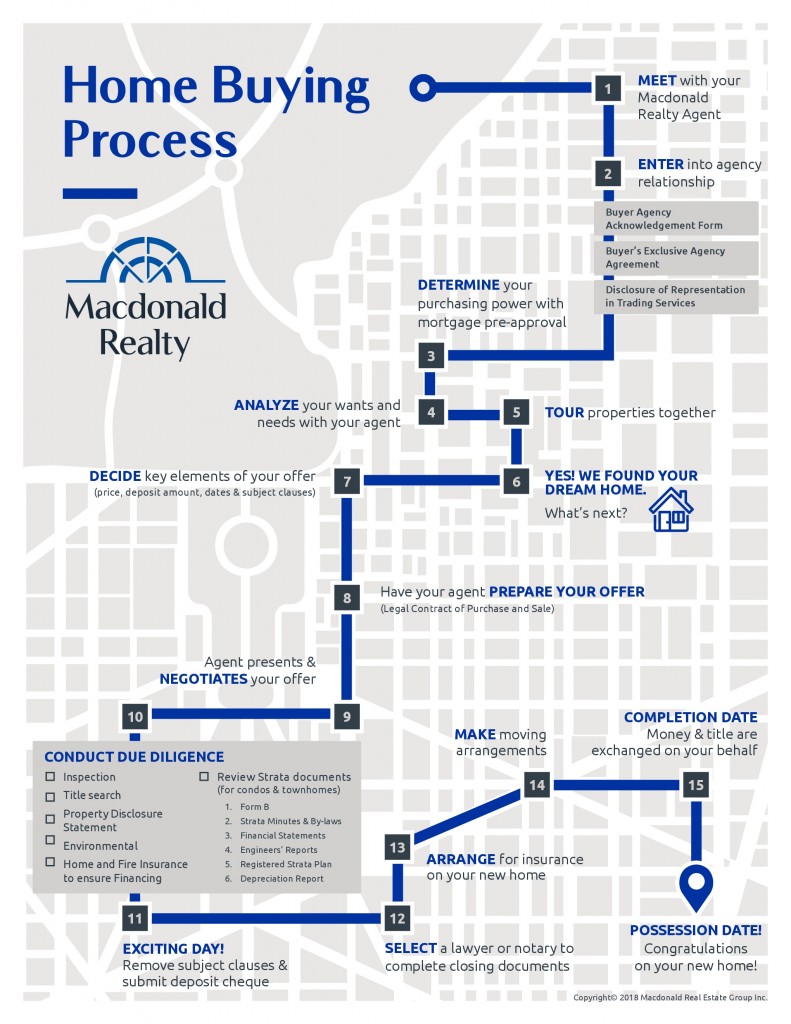 Backed by an impressive portfolio of innovative programs and tools, professional support, and the combined resources, services and knowledge of over 20 offices, I'm ready to put my extensive expertise to work for you.
No matter where you're starting out on your real estate journey – whether you're looking to buy your very first home, looking to buy an investment property, or dreaming of moving away, I'm equipped with the latest information and strategies to help you with the purchase of your new home.
Here's how the process works:
Let's meet up

to determine your real estate goals. From there, if you're happy to move forward, you'll enter into an agency relationship

Once you've determined your purchasing power with mortgage pre-approval, we'll analyze your wants and needs and start touring properties together

Yes! We've found your dream home. From here, I'll prepare your offer, present it & begin negotiating

The big step! Next, we'll conduct due diligence. This includes the inspection, title search, property disclosure statement, environmental, home and fire insurance and reviewing the strata documents (for condos & townhomes)

You'll remove subject clauses and submit the deposit cheque

Next, you'll need to select a lawyer or notary to complete the closing documents, arrange insurance on your new home and make moving arrangements

Completion date! The money & title are exchanged on your behalf

Possession date! Congratulations on your new home
Real estate, like life, never stands still. Momentum is critical, as is acting when the time is right, and recognizing opportunities. I'm here to help you see the potential and make it happen.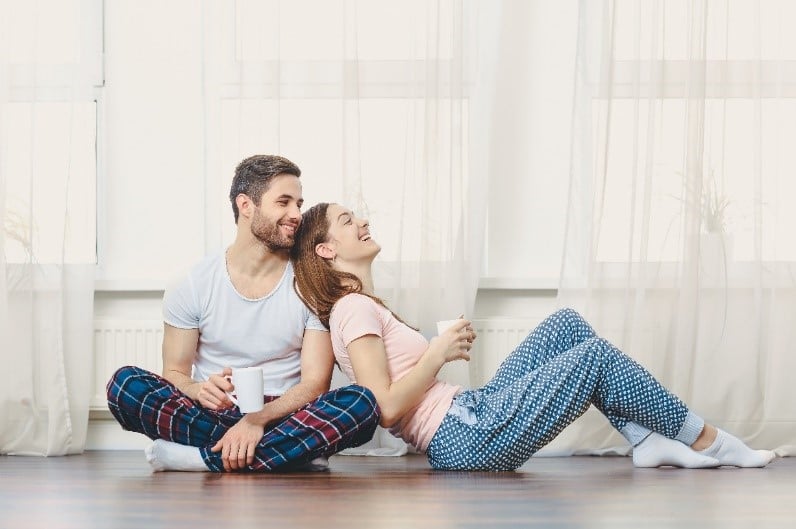 Testimonials
" Jeannie is friendly, kind, compassionate, honest, informed, professional and determined. I cannot imagine anyone better suited to finding us our home. She was flexible when we needed her to be and I genuinely felt our interests were her top priority. "
- Charlotte Bayliss
" With the help of our Realtor, Jeannie Shaver, my family and I have just moved into our dream home. Jeannie was absolutely amazing, she put in so much work to make this process completely stress free for us. From staying up late on Christmas Eve to complete a time-sensitive contract, to negotiating an amazing purchase price for our house, she went above and beyond at every step of the way. Not a day went by that we didn't receive a text message from her asking how we were doing and if there was anything she could help with. Jeannie truly made shopping for our dream house an enjoyable experience. I highly recommend her services to anyone buying or selling in the Nanaimo or surrounding areas. "
- James and Allie, Happy New homeowners in Nanaimo
" I don't often take the time to write a review... But I felt that my experience was worth an exception. When you can not begin to elaborate how supported you felt with your home buying process , I think that's when you need to take the extra time to try and articulate your experience into words.I found my self overwhelmed with the idea of buying a new home at the same time as become a new mom and other major life events taking place. Jeannie assisted me patently well we worked to find the perfect home for my new family. I have never worked with such a knowledgeable, kind and thorough realtor; She made my husband and I feel comfortable and supported throughout the entire process. At times that meant being the baby holder or even devil's advocate to challenge us to make sure we had found the right fit. The property we fell in love with had some challenges once our offer was accepted. Fortunately , Jeannie's expertise and negotiating skills guided us into our wonderful new home making the opticals not seem so big after all. Needless to say, I trusted Jeannie's advice every step of the way and I could not have imagined a better outcome. She took a stressful process for us and walked step by step with us through it. Thankful for her and that she was on our team. "
- Bronte Robinson-Pike
" We want to thank you for your professionalism and excellent advice when we met you at Ballard Homes open house. Your easy manner and diligent work ethic helped us decide that Ballard Homes would be our builder. We would recommend your services to anyone wanting honest professional information on real estate. Job well done, "
- Derrill & Liia Herman
" Jeannie did a great job helping us find out first home! She was very attentive to what we were looking for as well as helpful and knowledgeable! "
- Frank Hudson
" Jeannie was completely invested in helping us find our dream home. Knocking on doors, coordinating inspections, providing local contacts, and managing our expectations. Her easy-going manner and professional advice made us comfortable right from the beginning. Jeannie's response time was unbelievable, and she was on top of every detail to make our purchase go smooth. Even after the purchase Jeannie continued to offer her help and really went above and beyond! We couldn't be happier with her services and are lucky to have a realtor of her caliber. "
- Jason & Lisa
" Jeannie there is a reason your rocking this realtor thing. Your sincerity, kindness, patience and knowledge is a true asset to all those that are fortunate enough to work with you. I know my clients are always in the best of hands and on the flip side your always great to work with and so efficient ! Congrats on your success and I know it will only continue I look forward to our next partnership together. "
- Regan Dziadyk
" Jeannie assisted my Aunt and I in selling my late fathers property in Errington. She did an amazing job, and even though I never met her in person (I live in Australia) I felt like she became an instant friend and her professionalism in dealing with buyers as well as keeping me updated despite the time difference in the countries, I felt completely confident in her abilities and would 100% recommend her services both for buying and selling a property in the area. "
- Sarah Boswell
" I had the good foresight to pick Jeannie as my Realtor. I am a first time buyer and I relied on Jeannie's expert advice on many occasions. She had quite the challenge with me as one day I wanted to be in Qualicum the next day Nanaimo. I wanted a house, then a condo and next a townhouse. I was chauffeured around by Jeannie and no request went unanswered. We found the perfect townhouse for me. I would not hesitate to recommend Jeannie to my friends and family "
- Pam
" Through a chance meeting with Jeannie we bought a brand new home and sold our existing one. During this process Jeannie was extremely knowledgeable, thoughtful and professional. There was never any doubt that she was working in our best interests at all times. We recommend Jeannie in all instances when buying or selling your homes! "
- Bill and Tammi
Previous
Next